The last child that we interviewed during our PSA shoot was a spunky 12-year-old boy named Carson. His dad Travis was with him, but Carson stole the show. I have been warned that he will be reading this post once it is on Facebook, and I hope we get his approval.
Carson's Diagnosis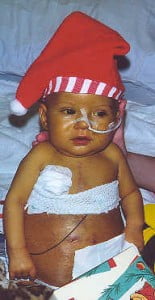 Like Paityn, Carson was also diagnosed with Biliary Atresia. Annually, there are only about 300 babies born per year with this disease, and it requires those diagnosed to undergo a procedure called the Kasai procedure when they are one – three months old.
Although Carson had the surgery, he struggled with many complications and health issues throughout these first few months of life. At 8 months old, Carson weighed only 12 pounds. On average, a baby boy of his age weights around 19.5 pounds. Due to his unhealthy liver, Carson struggled to grow.
Next Steps
His parents, Travis and Rhonda knew they had a few different options:
A liver transplant could be accomplished by taking a portion from a live donor,
Using a partial liver from a cadaver,
Or by using one from a cadaver of a small adult or child.
As Carson's condition worsened, Rhonda decided to donate a portion of her liver so her child could survive. On December 27, while Rhonda was in the process of being prepared for surgery, Carson spiked a fever so the transplant was called off.  Three days later, a liver was found for Carson.
HIs liver came from a 2 or 3-year-old from across the country. This meant that at the time, Carson was one of the sickest children in the entire country who needed a liver with type 0 blood. A transplant from a child's liver was the most ideal for Carson because the blood vessels were a closer match to his own, and the surgery was a success.
His recovery was long, and he has battled other health problems throughout his life, but Carson is a talkative, funny pre-teen. He hangs out with his friends and picks on his 6-year-old little sister.
His parents are grateful for a parents' decision to donate. "Their child lives on through Carson, and Carson lives because of that child," says Rhonda.
Today, Carson is known by those who know him as a great big brother, son and grandson. He has an incredibly caring spirit.  He has gone through so much, and he is truly an amazing young man.